To celebrate the 10th anniversary of a legendary album, Confessions On A Dance Floor, we've rounded up our top reasons why we think Madonna is the ultimate icon of pop music.. And as if anyone really needs a list to fall in love with her, here are 35 reasons to love Queen Madge.
1. Guinness World Records ranked her the Best Selling Female Recording Artist of all time (300 million records sold worldwide)
2. She taught the world how to Vogue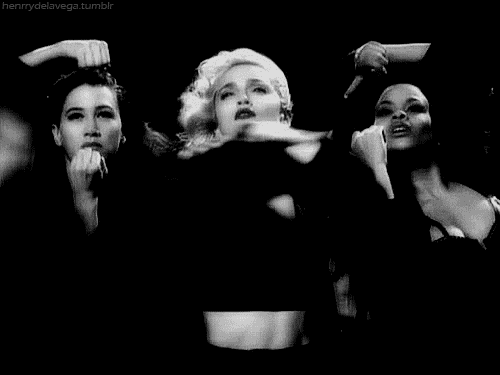 3. She wanted to be a dancer and when that failed she became one of the biggest pop stars in the world
4. She always reinvents herself
5. Madonna's Late Night with David Letterman episode in 1994 became the most censored in American network television talk-show history for saying the "F" word 13 times
6. She won a Golden Globe in 1997 for her role in Evita
7. She made out with Britney Spears
8. She made out with Drake
9. She has published a total of 10 books, including a children's book The English Roses
10. She casually made a coffee table book called Sex and it only added to her mystique
11. She's been relevant for longer than some of the current pop stars have been alive
12. She pulls off Marilyn Monroe flawlessly
13. She's a cool ass mom
14. She has the most MTV VMAs awards of any artist (20)
15. She always hangs out with the coolest celebs
16. She owns her sexuality
17. She's cool with being a bitch
18. She opened the very first MTV VMAS in 1984
19. She gave us the Truth or Dare documentary (1991)
20. She never fails at being controversial
21. She's unapologetic
22. She's dated Tupac, JFK Jr., Antonio Banderas, Lenny Kravitz, Dennis Rodman, Jean-Michel Basquiat, and ...Vanilla Ice
23. She stands up for what she believes in
24. She's super fit
25. She brought Michael Jackson as her date to the 1991 Oscars
26. She told us what she thinks of artists that are maybe TOO "inspired" by her
27. ...Her shade is always on point
28. She's a smarty pants with an IQ of 140
29. She has a charity to help orphans in Malawi called "Raising Malawi"
30. Her shows are LEGENDARY
31. Ray of Light was just too good
32. Her instagram is fantastic
33. Billboard magazine ranked her the most successful artists in the history of American singles chart
34. Her videos are always innovative
35. And because bitch, she's Madonna!